Community of Support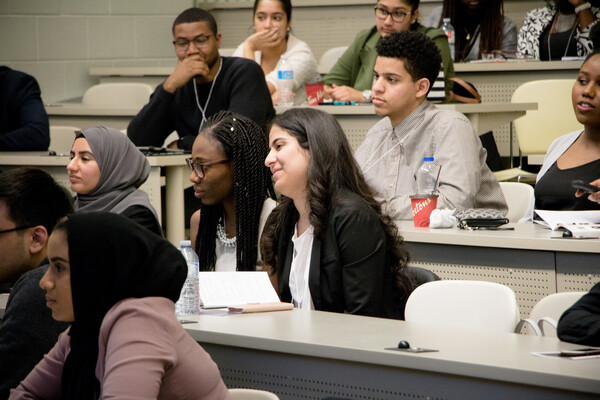 The MD Program is committed to the principles of equity and diversity and we recognize the importance of having a health care community that reflects the diversity of Canadian society.
The Community of Support (COS) is a collaborative and longitudinal initiative that support students who are Indigenous, Black, Filipino, economically disadvantaged, or who self-identify with having a disability at every stage of their journey to medical school. Being a member of the Community of Support will provide you with access to the following opportunities:
Admissions information: one-on-one advising and access to admissions events
Access to mentors (medical students, physicians) and experiences (enrichment courses, and leadership, research and volunteer opportunities)
Support at each stage of the application process – i) MCAT preparation, ii) 1-1 support with the medical school application, and iii) school-specific interview preparation
Similar supports are available for students that have interests in other health professional programs including Dentistry, Medical Radiation Sciences, Nursing, Occupational Therapy, Pharmacy, Physical Therapy, Physician Assistant, Public Health, Social Work.
If you are a prospective helath professions student, please complete the Community of Support form
If you are a medical student or physician and are interested in volunteering with the COS, please complete the Community of Support volunteer form.
AFMC MCAT Fee assistance program
The Association of American Medical Colleges (AAMC) and the Association of Faculties of Medicine of Canada (AFMC) is offering a fee assistance program for Canadian examinees, in financial need, who register for the Medical College Admission Test® (MCAT®) for the 2020 and 2021 testing years. The AAMC and the AFMC are committed to providing support to Canadian students who would be unable to take the MCAT® without financial assistance. This will contribute to a diversity of students enrolled in Canadian medical schools.
If paying for MCAT expenses out of pocket would be challenging for you, please consider applying! The second cycle of applications is currently open until March 7th, 2021. To check your eligibility and apply, refer to AFMC's website here. 
Our partners:
Related links