Understanding the Academies
A special feature of the University of Toronto (U of T) MD Program is its academy structure. There are four academies. The St. George campus includes the Fitzgerald, Peters-Boyd and Wightman-Berris Academies. The Mississauga campus has one academy – the Mississauga Academy of Medicine (MAM).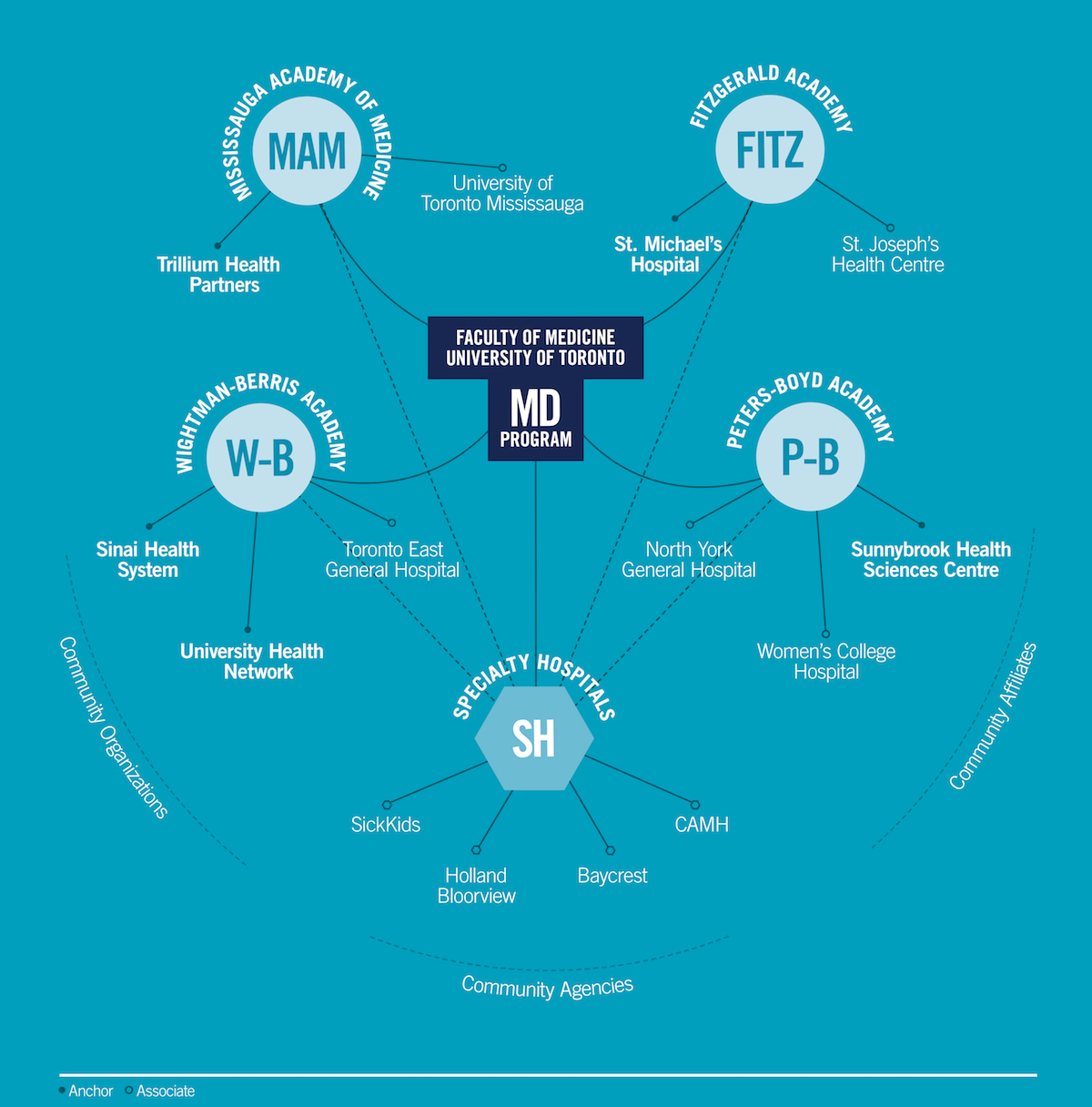 Each of the four academies is comprised of clusters of the University's affiliated hospitals and health care sites. All U of T medical students are allocated to an academy for the period of their MD studies.
The academies foster a smaller learning environment within a larger program and provide the hospital-based portions of the curriculum in a supportive, student-focused learning environment. At each of the academies, students learn clinical skills, participate in problem-based learning, inter-professional education, and conduct research in community-based partner agencies.
During clerkship, students from all academies also attend rotations at different sites, including The Hospital for Sick Children (SickKids), the Centre for Addiction and Mental Health (CAMH) and other sites around the Greater Toronto Area (GTA).
FitzGerald Academy
This academy is named after 2004 Canadian Medical Hall of Fame inductee, John Gerald FitzGerald (1882-1940). FitzGerald was Canada's public health visionary, responsible for the development and dissemination of free vaccines to every Canadian, the formation of Canada's first School of Hygiene at the University of Toronto, and the establishment of Connaught Laboratories (previously a world leader in Insulin production).
The FitzGerald Academy (Fitz) is located in downtown Toronto and includes St. Michael's Hospital and St. Joseph's Health Centre. Caring for some of the city's most vulnerable populations, St. Michael's Hospital cares for about 24,000 inpatients annually.
Currently, Fitz's first –year enrolment is 54 students. In total, Fitz registers over 700 preclerkship, clerkship and elective medical students per year.
Mississauga Academy of Medicine
The Mississauga Academy of Medicine (MAM) was established in 2011 and it is located in the Terrence Donnelly Health Sciences Complex at the University of Toronto Mississauga. MAM is comprised of various clinical and academic sites, to offer students clinical experiences in a wide range of health care settings.
Trillium Health Partners (THP) – Anchor site
Mississauga Hospital (MH / M-site)
Credit Valley Hospital (CVH / C-site)
Queensway Health Centre (QHC / Q-site)
University of Toronto Mississauga (UTM) – Associate site
Terrence Donnelly Health Sciences Complex (TDHSC / HSC)
"MAM is relatively small so we all get to know each other very well, hence being affectionately known as the 'Mamily'", says 1T8 student Tejas Desai who studies at MAM. MAM usually admits 54 students and currently has a total of 216 students — or 'MAMers', as they call themselves.
Peters-Boyd Academy
The Peters-Boyd Academy (PB) is comprised of three hospitals:
• Sunnybrook Health Sciences Centre
• Women's College Hospital
• North York General Hospital
Matthew Taylor, a 1T8 student based at PB , describes the different hospitals, "Sunnybrook is a large hospital campus with advanced facilities for in-patients. North York General is a smaller hospital with a community care feel and Women's College Hospital is focused on out-patient care. "
PB is named after Dr. Vera Peters (1911-1993) and Dr. William Boyd (1885-1979). Dr. Peters was a professor of radiology at the University of Toronto and a pioneer in the radiation treatment of cancer, acclaimed for her contributions to the treatment of Hodgkin's disease. Dr. Boyd was an author, award-winning teacher and professor of pathology at U of T.
Currently, PB enrollment is 60 students for first year and registers over 400 preclerkship, clerkship and elective medical students every year.
Wightman-Berris
As Dave Scholl, a 1T7 and Wightman-Berris (WB) student, notes, "WB is the largest academy, providing a rich network of friends and colleagues." WB is comprised of:
• UHN (University Health Network) – including Toronto General Hospital, Toronto Western Hospital, Princess Margaret Cancer Centre and Toronto Rehab
• Sinai Health System – including Mount Sinai Hospital and Bridgepoint
• Michael Garron Hospital, formerly Toronto East General Hospital
WB is named after Dr. KJR Wightman (1914-1978), who was Physician-in-Chief of the Toronto General and post-graduate Dean at U of T, and Dr. Barnet Berris (1921-2009) who was a clinical teacher and the Physician-in-Chief at Mount Sinai.
At this time WB student enrolment is 91 first-year students. Over 700 preclerkship, clerkship and elective students are registered at the academy every year.