Meet our 2020-2021 Admission Representatives
Benji Baker and Shakiba Ardestani are 2nd year medical students at the University of Toronto and were selected as the student representatives for the MD Program Admissions Committee. Their responsibilities include contributing to and voting on admissions policies, evaluating applicant files, acting as ambassadors for the Program by giving presentations and speaking to prospective applicants, coordinating interview days and much more! They took a break out of their busy schedules to chat with the admissions team about their path to medical school, and their experiences since.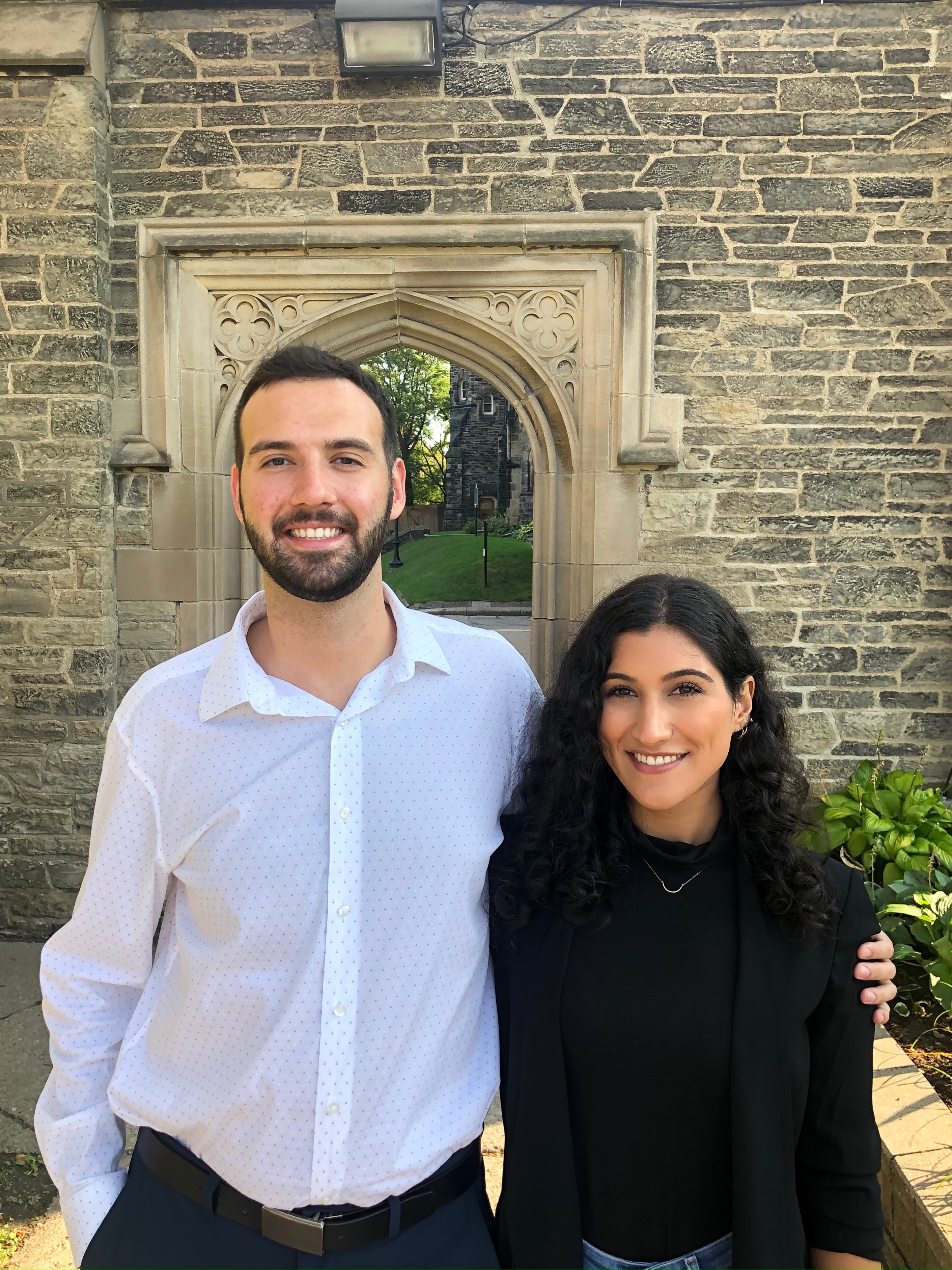 Benji Baker
Hometown: Thornhill, ON (although everyone in my family except myself were all born in Winnipeg)
Previous education: BSc and Masters of Biomedical Science at the University of Guelph
Shakiba Ardestani
Hometown: Richmond Hill, ON (born in Iran)
Previous education: BMSc Honors Specialization in Interdisciplinary Medical Sciences at Western University
Did you always plan on going to medical school? What sparked your interest in becoming a physician?
Benji:
Medicine was something I had not considered until my third year of undergraduate study. I had no one in my family that was in healthcare, so I was entering unknown territory. What really pushed me to this direction was working on my university's first response team which gave me a sliver of perspective into pre-hospital care. It was here that I was finally able to engage with alumni who were in medical school, or were currently practicing physicians that provided insight into the career of medicine. What ultimately enabled me to commit to this path was seeing the absolute breadth of opportunity and specialties that a career in medicine offered.
Shakiba:
It wasn't just one experience that led me to medical school. I always had an interest in being a physician from a young age but never really understood how multi-dimensional being a physician was. It wasn't until personal experiences, exposure to public & community health, encounters in clinical settings, and many questions and curiosities about what determines health that led me to really pursue a career in medicine. I am still learning about the many careers that a medical degree can lead to, because it is a privilege that opens many doors to be able to contribute to our local and global community.
Why did you choose to join the MD program at U of T?
Benji:
There were a few things that I considered important when choosing which medical school I wanted to attend. The affiliated hospitals and research facilities meant that I would never travel far to gain insight into a niche specialty. I never had to ask myself "Would I be able to shadow a specific specialty?", but rather ask myself "What day could I fit this into my schedule?". Which leads me to a second draw to U of T's program which is the protected day's off (Wednesday in first year, Tuesday in second year). Having one day each week with absolutely nothing scheduled meant I could take time for myself, meet with friends, dedicate to work, or spend the day shadowing.
Another big draw to U of T's MD program was the way our learning is assessed (small tests called "mastery exercises") meaning that you engage more frequently with the material, and doing poorly on one assessment will not translate into repeating a course. The whole program is designed to always build off your previous knowledge, while at the same time re-integrating old material in new ways so you never feel like you're "forgetting" older lectures. There truly is something for everyone here, and the program accommodates all learning styles which makes the transition to medical school so much more enjoyable!
Shakiba:
There were many reasons why I chose to attend the MD program at U of T. U of T is unique in the way it assesses its students, as we have low-stake assessments, which allows students to spend their time truly comprehending the material without the pressure of a highly-weighted exam. We can make mistakes, try new methods of learning, and take our time adjusting to a new program without negative consequences towards our overall grade. The opportunities present at U of T are also vast, where we have the privilege of being taught by any specialist that you can have, and truly explore all career options in the medical field!
Where was first the place you've visited on campus?
Benji:
I'm somebody who loves to snack, so naturally the first place I visited on campus was the cafeteria in the Medical Sciences Building. Despite all the free food we got during Orientation week, I couldn't resist the call to a slice of pizza that may have been sitting out for several hours. Ironically, my affinity for campus snacking was how I met Shakiba - while we were both in line to pay for snacks. Food truly is the best way to form a friendship.
What is it about the City of Toronto that attracted you the most?
Shakiba:
As someone who loves to try new foods from different cuisines, I was definitely attracted to the vast variety of restaurants here in Toronto. No matter how many restaurants I've gone to, it is as if the bucket list never stops growing!
What do you like to do outside of your studies for fun in the city?
Benji:
I absolutely love puzzles, so before COVID I would spend as much time as I could doing escape rooms with my friends. Thankfully there is no shortage of entertainment in Toronto - there is something here for everyone (although my wallet would disagree with this sentiment). When I am not paying for somebody to lock me in a room, I enjoy a friendly round of Spikeball in Queen's park, biking along the waterfront, or going for walks in the many downtown neighborhoods. It is absolutely amazing how much there is to discover downtown.
What have you enjoyed most about the MD Program so far?
Shakiba:
My favourite part about the MD program so far is our weekly Clinical Skills sessions. We are able to integrate the topics we have learned that week into taking histories and practicing physical exams with a patient-centred approach in mind. Whether virtually or in-person, it is a privilege to be taught how to approach patient care and recognize that there is more to medicine than the basic sciences.
What are you looking forward to in your future career as a physician?
Benji:
We are granted so much privilege just by being in medicine and I really want to channel this back into the community. A career as a physician is dedicated to the people, and I want to make it an absolute obligation for myself to create opportunities for others where barriers exist. I am most looking forward to working along with my peers as we progress through our different career paths to not only serve our patients, but the broader community as a whole.
Shakiba:
I hope to utilize the privilege physicians hold to work as an advocate for marginalized communities. Although I do not know the medical field I want to work in, I hope to work towards diminishing the health inequities present in our healthcare system and to collaborate with those in the community to provide the care they deserve.