Meet our 2018 Admissions Reps
Dion Diep and Heta Joshi are 2nd year medical students at the University of Toronto and were selected as the student representatives for the MD Program Admissions Committee. Their responsibilities included contributing to and voting on admissions policies, evaluating applicant files, acting as ambassadors for the Program by giving presentations and speaking to prospective applicants, coordinating interview days and much more! They took a break out of their busy schedules to chat with the admissions team about their path to medical school, and their experiences since. 
Note: this is Part 1 of our interview with Dion and Heta. Find part two here!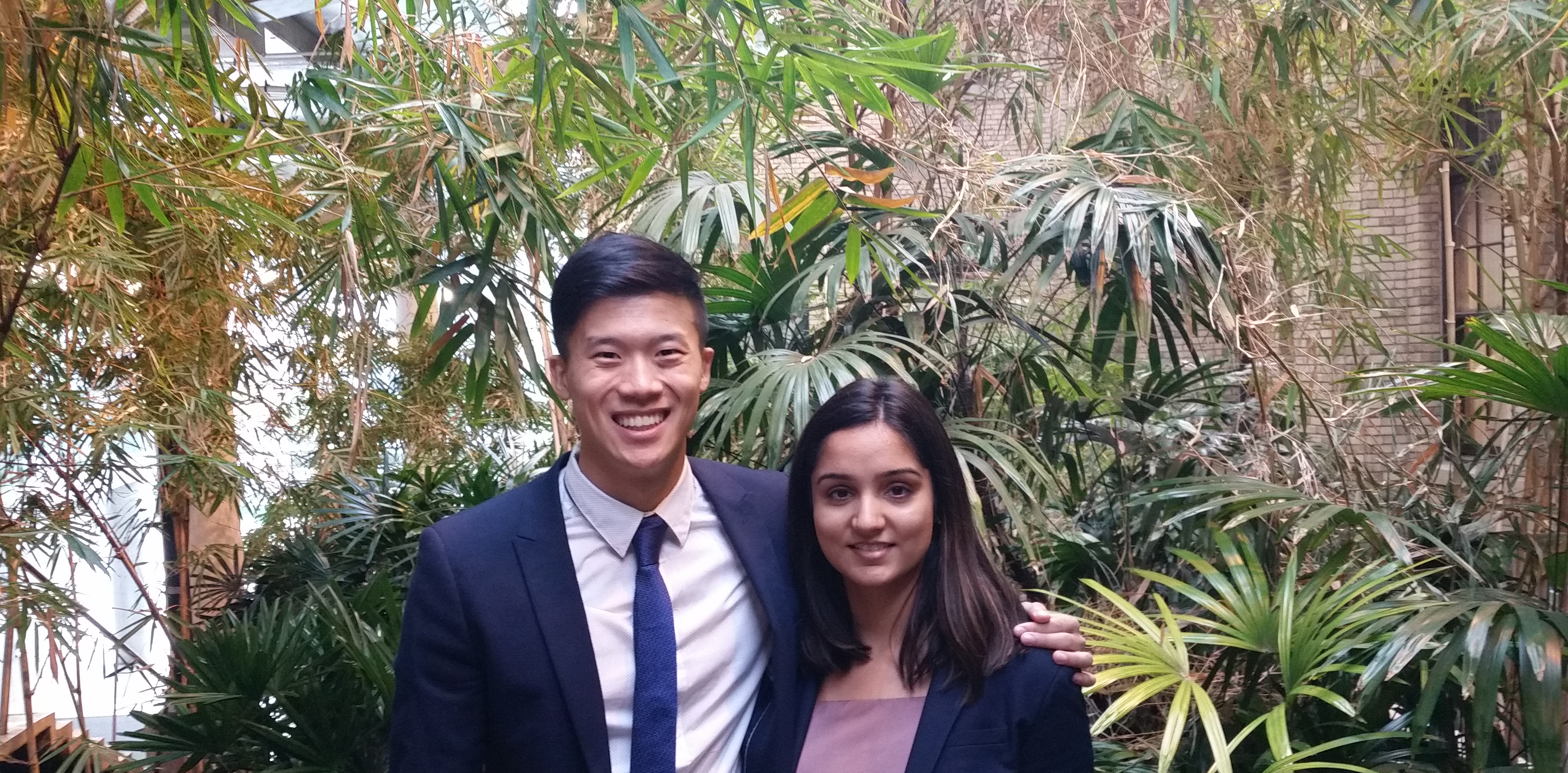 Have you always planned on going to medical school? What sparked your interest in becoming a physician?
Dion:
In the 5th grade, I came home to show my mom my report card. Bs and Cs darted across my mom's eyes as she skimmed through it. However, her eyebrows raised when she saw the A at the very end in my science course. This early success put a glimmer in my mom's eyes, but I continued to play video games as I shrugged it off. What I didn't know at the time was that although science is only one facet of medicine, my interest and success in it gave rise to a snowball effect that brought me to where I am today.
This paragraph will list a few notable experiences that nudged me closer towards a career in medicine. Early in high school, I learned that I loved working with people when I worked at the local movie theatre and as a sports instructor at my local community centre. At the same time, I was training as an amateur boxer and required constant interaction with physicians to continue in competition. This early exposure to medicine demonstrated the aspects of the career outside of science that I wasn't aware of. Flash forward to my undergrad, where I had the opportunity to shadow ring-side physicians and be involved in research related to the sport. As my involvements accumulated, the uncertainty of what I wanted to do diminished.
Heta:
In elementary school, I'm pretty sure I wanted to be an astronaut. That was until I realized that there were no Starbucks in outer space so that option was eliminated pretty quickly. In elementary school, I was that kid going out of my way presenting projects about the heart, the brain and the musculoskeletal system. Even though realistically I didn't know much, but I was really just interested in the human body.
I remember in high school, I participated in a robotics competition where we had to design a robot using Lego Mindstorm kits to perform a craniotomy on a prototype of a pediatric human skull which I found fascinating.
During undergraduate studies, I did research in neuropharmacology. I was really interested in some of the conditions I came across such as stroke, Parkinson's disease, schizophrenia, and many more, and the impact of these conditions on the lives of many patients. I also shadowed some clinics and surgeries during undergrad where I was just intrigued by the connection and trust between patients and physicians. I don't think there's a specific moment that I can pinpoint where I got interested in medicine as a career, but this was probably what confirmed that I really wanted to go to medical school.
Why did you choose to come to U of T?
Dion:
The first reason is because Toronto is home. I was born and raised in Toronto, so I've always known growing up that I'd want to stay here. Being born two blocks away from the Medical Sciences Building on campus is also always a cool thought. I can never get enough of the city even after spending all my life here. Food, entertainment, sports, the list doesn't stop.
Other reasons obviously include: the high exposure to any specialty you can imagine, research projects and community initiatives of any breadth and depth, incredibly generous financial aid (thank you U of T for sponsoring my education), and U of T's global reputation being ranked one of the top 5 schools in clinical medicine worldwide.
Heta:
There were so many reasons but if I had to break them down I would say it would be because of the curriculum, research, and city. I learned about the Foundations curriculum while applying and it just made so much sense! With the integration of all courses including anatomy, in-class lectures, case modules, self-directed learning, clinical skills, and technical workshops, I felt as if this was the perfect learning style for me. Furthermore, the idea of self-learning time in this curriculum is what really attracted me. While applying to medical school, I always worried that in medical school, I wouldn't have time to pursue research, extracurricular activities, or hobbies that I had. Self-learning time really allows students to pursue their interests, explore different fields of medicine, and achieved a more balanced lifestyle.
I wanted to continue to pursue research during medical school as I really enjoyed it in undergrad. University of Toronto is a leader in research and innovation both in North America and the world. There are so many unique research opportunities and thousands of investigators doing research in every field.
Last but not the least, the city. I grew up in Toronto so it was home for me. Moreover, there's always something to do in the city - whether you want to go for a run, go watch a comedy show, go to the art gallery, or if you're like me and just love food, there's an AMAZING food scene.
                                                                                                   About Dion and Heta 
Dion did his undergraduate degree in Health Sciences at McMaster University. He is looking forward to approach his career in medicine with an open mind just as how he approaches life. He always reflects back and think how excited his undergrad self would have been to see where he is now, or how excited his high school self would have been seeing where his undergrad self once was. The possibilities in medical school and beyond are endless and he looks forward to how time will unveil his future career and tie it into medicine. He loves surprises. 

 

Heta did her undergraduate degree in Life Sciences at McMaster University. She is looking forward to integrating her interests in medicine and computer science to develop healthcare management strategies and promote effective patient centered care both locally and globally.